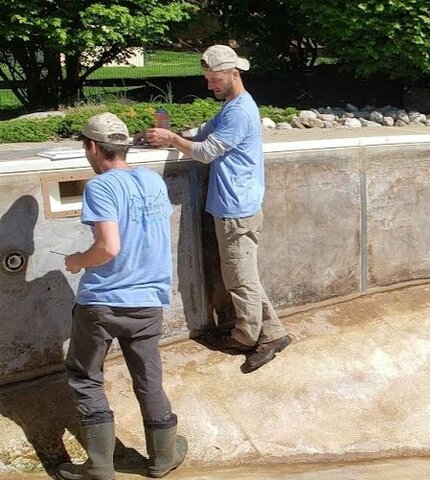 Vinyl Liner Replacement
Is your pool liner dried out, bleached or stretched out? Rejuvenate your pool today with a new liner!Includes: Measure for new liner, cut out old, re-patch vermiculite bottom if necessary (sand bottom - add $450.00), install new liner, replace white goods (main drain cover, skimmer and return plates), replace all gaskets. 2-3 day job. Price doesn't includes water trucks to fill pool. (20 year limited warranty on liner workmanship).
Work to be performed.

Mer-Man Swimming Pool Services, will obtain and install a pool liner &/or Safety Cover for the customer named on the contract. MSPS is not a manufacturer, but will order materials from reputable manufacturers.

Guarantees.

MSPS agrees that all materials used in completing the contracted work will be new and of high quality (unless different material is specified in this contract). All work will be done in a competent and workmanlike manner. If any defect occurs in workmanship within one year of installation MSPS will remedy said defect without cost to the customer (provided the customer is not delinquent or in default under the contract). MSPS may elect, in its sole discretion whether to replace or repair any such defect. The customer is also entitled to any and all manufacturer warranties (provided customer is not delinquent or in default). Damage or failures due to mistreatment, negligence, animals, or Acts of God are not covered by these guarantees. Customer acknowledges that there may be some small wrinkles due to shifting or bowing of walls and MSPS is not responsible for correcting same. MSPS is not responsible if sand dries and runs under the liner during installation due to inadequate water pressure and heat. MSPS is not responsible for the cost of water if it is necessary to replace water regardless of the cause of the defect. Service calls within the guarantee period will be made free of charge by MSPS unless it is determined that the cause of the customer's complaint is unrelated to the pool liner or pool safety cover in which event a reasonable charge for the service call will be imposed.

THESE WARRANTIES ARE YOUR ONLY WARRANTIES, EXPRESS OR IMPLIED, AND THE IMPLIED WARRANTIES OF MERCHANTABILITY AND FITNESS FOR A PARTICULAR PURPOSE ARE EXPRESSLY DENIED. IF YOUR STATE DOES NOT ALLOW THE EXCLUSION OF THESE WARRANTIES, THEN THOSE WARRANTIES EXIST FOR THE DURATION OF THE EXPRESS WARRANTIES CONTAINED IN THIS CONTRACT

.

Access to premises.

The customer agrees to permit free and ready access to the pool site and adequate working space commensurate with the work or repairs to be done at the pool site, during all reasonable hours. The customer agrees to remove all overgrown bushes or other material which may block access to the pool site and decking prior to the commencement of work. Customer will agree to keep the work area / entrances / exits, etc. free of Animal feces for the duration of time that MSPS is fulfilling the contract. The customer hereby grants an easement to MSPS and its employees, agents and or assigns across the customer's property to the pool site for purposes of performing the work under this contract and for taking pictures of before and after conditions for any advertisements. By signing this contract you give us the right to take before and after pictures or video of your property including but not limited to the swimming pool for the purpose of advertisement. Your personal info will not be disclosed in any advertisements whether printed or on the internet.

Consequential and Incidental Damages

MSPS will not be responsible for the following damages that may occur. Including but not limited to damage to driveways, lawn damage including ruts in the lawn, septic system problems, water in the house, or any other damage to any landscaping, walkways, hardscapes, driveways, underground piping (ie sprinkler system or pool plumbing under decks) and or trees or bushes. When low voltage lighting is installed, it is the responsibility of the electrician or homeowner to ensure the correct voltage and to replace the light if the correct voltage is not in place. This will not be the responsibility of MSPS. MSPS will not be responsible for any water loss or leakage or the replacement for any such water. When removing the old liner from the pool it will not be the responsibility of MSPS for any unforeseen damage that is under the liner, including but not limited to problems with the coping, extrusion, plumbing, skimmers or light niches, steps, floor or walls, which may not be known to the contractor until after the work has started.

Utilities.

The customer expressly agrees that the customer will supply the necessary electricity and water for filling the pool immediately upon installations of the pool liner/cover, and acknowledges that failure to do so may cause damage to the pool and/or the liner for which MSPS will not be responsible. Electricity for tools and equipment used in installation will also be provided by the customer within 300 feet of the installation site.

Returns.

The parties hereto recognize that pool liners and most pool covers are custom-made for the customer's particular pool and as such are not returnable. All sales are final, subject to the warranties set forth herein and by the manufacturer.

3-D Patterns.

To achieve the 3-D effect the liner is printed on a white or light base film. As a result, a small amount of white or lighter color will show when the liner is seamed together. This condition is more prevalent on darker-colored prints and the showing of white or lighter color film will not be considered a defect.

Anchor Installation:

Unless specifically stated in this agreement, lawn tubes and lawn spikes are not to be cemented into the pool deck or earth; therefore some covers may be subject to a manufacturers' waiver. We are not responsible for broken or chipped brick, concrete or any other decking. When using lawn tubes/lawn spikes or rebar we are not responsible for piercing or breaking any underground pipes and or wires.

Installation Start Date.

Every effort will be made to start work under this agreement on the approximate date set forth on the front hereof. However, certain circumstances beyond the control of MSPS occasionally require that the start date for installation be postponed. Thus customer acknowledges that the start date may be postponed two days for every day of inclement weather (i.e. rain, snow or other weather conditions which prevent installation). Additionally, the customer is advised that at times the manufacturer of the liner/ safety cover may require additional measurements in order to properly produce the liner/safety cover and reasonable delay may be required so as to provide the manufacturer with those measurements and for the manufacture to thereafter ship the liner/cover to MSPS or the work site. MSPS will make every effort to work with and assist the manufacturer in its production of the liner/cover, but ultimately will not be responsible for any damages caused by the manufacturer's delay in production. The fees and charges set forth in this agreement do not include expedited services, and do not include special pick-up or delivery, for which additional charges may be made if such service is requested by the customer.

For every day payments are delayed, work will also be delayed.

Cancellation of Contract.

In accordance with law, customer has three days to cancel this contract. In order to cancel, customer shall provide notice by telephone or e-mail to MSPS, followed by written confirmation of the intent to cancel by mail to MSPS office. Upon receipt of the telephone or e-mail notice, MSPS may stop all work under this contract and may put a hold on all orders, pending receipt of the written notice which is to be mailed. However, the contract will not be deemed canceled unless and until the written notice is received by MSPS at its office. New Jersey customers please see New Jersey requirements.

DEPOSIT

IS NON-REFUNDABLE, if the contract is cancelled after the time designated in the cancellation provision that is attached to this contract.

At any time during the performance of this contract, the contractor may demand and shall be entitled to receive in full from the owner advance payment for any materials that are necessary to perform this contract.

Discontinued Parts.

Certain parts, including, but not limited to gaskets and fittings, steps, coping and lights are no longer in production and cannot be purchased. Reasonable effort will be made to obtain and use similar or equivalent parts in such circumstances, but exact aesthetic matches cannot be guaranteed.

High Water Table.

Replacing the pool liner involves emptying the pool completely and keeping the water out from behind the liner until the new liner is installed. If there is a high underground water table or surface water, additional work may be required in order to install the new liner. Sometimes this condition cannot be ascertained before water removal. If such a situation arises the customer is responsible for the additional costs to complete the work, and MSPS is not responsible therefore. A written estimate for controlling the ground water will be provided. If the customer chooses not to proceed with the additional work, the customer must compensate MSPS for the liner, materials and any work done up to that point. MSPS will not be responsible or any damage or imperfections due to underground water, including the liner popping out from the track, lifting away from the ground (floating), or causing wrinkles or indentations.

Pool Structure.

Due to the structure being underground, MSPS cannot ascertain the integrity of the pool walls. Even though the pool will be empty for a short period of time, MSPS cannot guarantee that the pool walls will not implode. Sand under or around the pool is also subject to settling. Light niches are subject to leakage. There are many variables that may contribute to the integrity of the pool structure, including bracing by the pool builder, deck material (or lack thereof), cement, cement collars, braces, (or lack thereof), etc. and MSPS cannot be responsible for damage caused by insufficient or inadequate pool structure. In regards to step installation whether new or replacement steps. The price given is for what is considered normal installation within industry standards. Industry standards are an 8'' concrete collar around the structure. There could be additional charges, as the structure is underground some things may not be seen until work has begun. Some examples would be large rocks or other debris that does not belong under the step, leftover concrete was poured behind the step, excessive ground water in that area etc.

Unpaid Balances.

Title to all materials shall remain the property of MSPS until the price stated in this agreement is paid in full.

At any time during the performance of this contract, the contractor may demand and shall be entitled to receive in full from the owner advance payment for any materials that are necessary to perform this contract.

MSPS shall have the right of self help, without resort to legal process or suit, to enter the premises for the purpose of repossessing all or any part of said materials if the customer fails to pay the prices set forth in this contract in the manner and within the time frame set forth (This is applicable to New York and Connecticut only). In the event of default by the customer, the customer agrees to pay all reasonable costs of collection, including MSPS's attorney's fee, court costs and all other expenses incurred in collection efforts by MSPS. Any unpaid balances which are past due shall be subject to a finance charge of 2% per month, to commence with initial failure of payment. MSPS will be entitled to a twenty-five ($25.00) dollar per month storage fee which will be charged, to commensurate with repossession. Customer agrees to pay an additional charge of thirty ($30.00) dollars in the event any check issued by customer is returned unpaid. Criminal penalties may also apply if payment (in full or amount or percentage agreed upon) is not made when liner is installed. The installers will cease and leave the premises, not to return until payment in full is made. If the debt is not paid in FULL, MSPS may file a Lien on the property in question and a 30% collection fee will be added to the total. In the event that the signee refuses to pay the stated amount, mandatory mediation and penalties will occur. Any additional charges or fees to rectify the situation will be incurred by the customer, i.e. retrowling, pumping water to reset the liner, removing wrinkles, or the process or dewatering. In a dispute arises out of or relates to this contract, or the breach thereof, and if the dispute cannot be settled through negotiation, the parties agree first to try in good faith to settle the dispute by mediation or some other dispute resolution technique, before resorting to litigation. If within 30 days after service of a written demand for mediation , the mediation does not result in settlement of the dispute, then any unresolved controversy or claim arising from or relating to this contract or breach thereof shall be settled in any court having jurisdiction thereof.
Governing Law.

This agreement is governed by the laws of the State of which the contracted work is performed and any lawsuit arising hereunder shall be brought in a court of competent jurisdiction within the county where the work is performed.The parties hereto expressly waive the right to a jury trial in all circumstances.

Assignment/Transfer of Warranty.

Your rights and the Limited Warranties contained within this Agreement cannot be assigned.

Severability Clause

. If an arbitrator or judge finds that one clause is unenforceable, we agree that the remaining clauses will still be valid and enforceable.

Responsibility for Work of Third Parties.

We are not responsible for and do not warrant work performed by others. It is your responsibility to investigate their credentials and qualifications. We will not be responsible for any damage caused by others to the work we performed.

Events:

You will NOT schedule any events, parties, or gatherings of any sort until renovation is completed. We are not to be held responsible for delays due to circumstances out of our control. We will not be held responsible for delayed or cancelled gatherings or forced to finish before contract completion date. Like any other home improvement project, do not plan your party until the renovation is completed.
ADDTIONAL STIPULATIONS
Notice of Lien Applicability: Any contractor, subcontractor, or material man who provides home improvement goods or services pursuant to your home improvement contract and who is not paid may have a valid legal claim against your property known as a mechanic's lien. Any mechanic's lien
filed against your property may be discharged. Payment of the agreed-upon price under the home improvement contract prior to the filing of a mechanic's lien may invalidate such lien. The owner may contact an attorney to determine his rights to discharge a mechanic's lien.
Additional Provision. A notice to the owner purchasing the home improvement that the home improvement contractor is legally required to deposit all payments received prior to completion in accordance with subdivision four of section seventy-one-a of the lien law and that, in lieu of such deposit,
the home improvement contractor may post a bond, contract of indemnity or irrevocable letter of credit with the owner guaranteeing the return or proper application of such payments to the purposes of the contract.
New Jersey
FOR INFORMATION ABOUT CONTRACTORS AND THE CONTRACTOR'S REGISTRATION ACT, CONTACT THE NEW JERSEY DEPARTMENT OF LAW AND PUBLIC SAFETY, DIVISION OF CONSUMER AFFAIRS AT 1-888-656-6225.